It's difficult to place The Color Forty Nine into a simple box. Their music is an elegant mystery, spacious and lush, haunting and jubilant. It's a balance of divergent themes and soundscapes, subtly unmoored to predictability. The lines between fiction and confession are blurred as the stories unfold hypnotic. The songs explore the pace and passage of hours, the struggles and joys in the process, the underbelly of intimacy, touch, the flood and rush of life, all delivered with a calm patience that conveys landscape and time. The music is a desert reflection on the border town complexities of San Diego and Tijuana, the unwanted fences, the blending of culture, the sprawling skies. 
 The music is cinematic, it's an open road drive to the proverbial west. With violins etching the movement of clouds, pianos spelling out the rain, the haunt of synthesizers adding a unique element to the gothic Americana ballads. There's a hint of gypsy and barrio, roots reaching outward into new terrain. It's the music of the Mojave sunset.
Collectively having been contributing musicians in bands such as The Black Heart Procession, Album Leaf, Pinback, Via Satelite, Manuok among others, the band mines their experience to create a sound that is both distinct and familiar. It is a sound that sits well with a wide range of companions, lending them to share the stage with bands as varied as Pinback, El Ten Eleven, Acid Mothers Temple, Eric Bachmann, and Film School, as well as conducting a successful tour of Japan in 2019 and shows in Mexico City in pre-pandemic 2020 on their own.
"This isn't something you hear every day, it's dark and brooding, yet an uplifting and jubilant classic at the same time."
As multi-instrumentalists, each member gets to stray from their previous roles to find new musical connections to songwriting. As a bass player for most of his life, Beaumont picked up, by happenstance, a baritone ukulele to travel with more easily, and thus began a new writing style that lends to their distinct approach. Matt Resovich plays violin and Casiotone through the many effects pedals he builds himself. Jason Hooper, a highly sought after drummer, picks up the bass for the Color Forty Nine, and Scott Mercado, typically the front man to his own band, Manuok, falls back on his drumming days to fill out the rhythm section, while also bringing piano and post-production wizardry. Their musical home is the attic of a 1910 home in Sherman Heights, where each rehearsal begins with a family style meal of good food and better wine.
Their first self-release in 2018 clearly defined a unique quality and was rewarded with two San Diego Music Award nominations, including a coveted "Best New Artist" nod.
With the shut down of 2020, the band used the time to record 12 songs for two new EPs to be released in the spring and fall of 2021. Of note, the band collaborated with Café Tacvba vocalist, Rubén Albarrán who sang the Spanish verses to  What Would I Know? / Yo Que Sé?, a song dealing with border issues and larger notions of the human condition. The band also collaborated with Smithsonian National Portrait Gallery Prize winning artist Hugo Crosthwaite to create a hand-drawn stop animation video for the song to be released in July of 2021.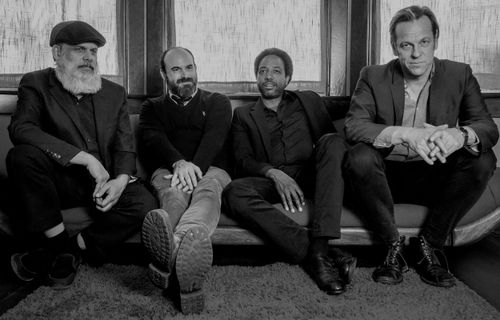 Embracing a collaborative approach with artists the band is partnering with a variety of international painters, dancers, puppeteers, animators and film-makers to bring their music to life visually through videos for most, if not all of their songs for 2021. They are also working on the scores for a short film and documentary with Emmy Award winning production team, Dignicraft.  Self-recorded throughout the course of 2020, the new songs were mixed by Latin Grammy winner Dave Parra based in Mexico City. 
The Color Forty Nine plans on extensive touring once the gates of COVID-19 hell open up and let live music breath again, ideally in the summer or fall or 2021. 
"This release at the 2018 half mark contains some of the best indie music to be heard thus far in the year."
"Their name invokes images of miners from a bygone era, there is gold to be found in the songs of The Color Forty Nine. The listener will be rewarded if they choose to wade through some murky waters with them in order to find it."
—San Diego CityBeat